Since 1998 the company Arredi Sacri Memeo.has a relevant place into the market of  religious articles for church and in the production of sacred furniture with its own line of religious articles completely Made in Italy, taking care of the creation, production and distribution of the model by their own. Twenty years of experience combined with the ability to grasp the changes of artistic trends and tastes of our customers, we show in the entire production of our workshop.

Manual mastery in creating sophisticated and sometimes unique pieces, while the acquired experience allows us to repair and restore pieces of priceless historical and artistic value.
Arredi Sacri Memeo chose raw material of first class; the machining and finishing of each article, show the union of craftsmanship and skill of the craftsmen with the support of precision and innovation of new technologies ensuring accuracy,precision and beauty over time.
Laboratory and showroom
By 2016 we moved into our new home, both legal and productive department. The new lab permitted to make improvements in the company's artistic process with the inclusion of plant and equipment of the latest generation that are improving and speeding up the process chain. The artistic line of Arredi Sacri Memeo shows in its models the smooth lines and simple elegance and sophistication, in other articles the movement and the magnificence of the Baroque style, to complete the offer with chiseled models by skilled craftsmen of experience and great skill.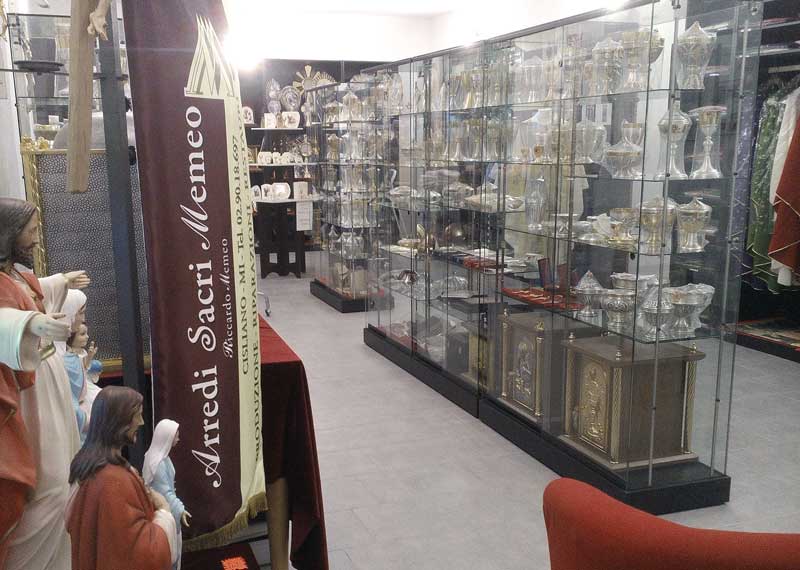 PRODUCTIVE PROCESS
Our products are born from our design, we realized with the help of art professionals, trying to follow the tastes and the information provided by our customers.
Our articles come from our design, made with the help of art professionals, trying to follow the tastes and the guidance provided by our customers. The piece can be realized by the foundry or directly from the slab. After the melting step, it is assembled as it would be by project. Subsequently it is again divided into pieces to undergo the blasting treatment and, then, the cleaning. The gold or silver platting, is achieved thanks to the internal galvanic process of our company. The final step consists in protection painting, which is fixed thanks to the passage in a specific oven, and the final stage with the final assembly of the product. The transparent coating is a peculiar step in our production, because it will help to save the gold / silver finishing of the product (made on the smooth parts), ensuring greater  protection from wear, human sweat which is not cleaned immediately, from  temperature changes in aviation transport  or weathering a humid climate of customer's living place.