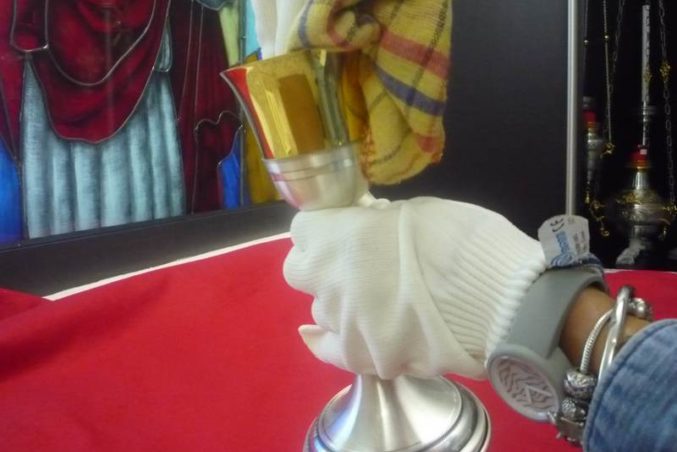 The Chalice :
The wine must be put only at the moment of the Eucharist, not long time before .
This because the alcohol of the wine corrodes the gold finishing.
After the wine, priest should pours some drops of water and clean with a  purificator napkin in cotton. However is it better use a soft cotton cloth or microfiber to not scratch the inside of the cup.
Do not use alcohol or detergent. Chalices and ciboria must be taken by the node and not  by the cup.
Our religious items are all made in metal : brass or copper, and then silver or golden plated.
The outside of tabernacle could be in wood.
The Tabernacle :
The inside of tabernacle is in brass and then golden plated. In this case the protective painting cannot be putted owing to the dimensions of the sheet (one for 3 sides).
In any case, all these items are delicate and the acid/salt of the  human sweat damage them.
The more you use them , the more they can be damaged (changing of the color of platting, green spots of oxidation) .
Normally tabernacle are not used so much, only the ciborium is hold inside, so it is important not to put fingers on the inside sheets, otherwise clean them immediately .